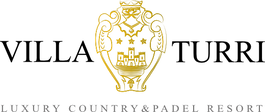 Villa Turri Luxury Country & Padel Resort offers many outdoor spaces where you can spend relaxing moments by the pool, strolling in the park or enjoying a typical dinner in one of the many spaces available to our guests.
The 'Orangerie' is a building were receptions and meetings take place. It has 2 big floors which perfectly suit the need for parties and receptions. On the ground floor there is a 19th-century imperial table for 24 people. There is also a big bathroom with all the comforts for disabled people.
The room on the second-floor has a special ceiling with wood beams and big windows offering a view on the breathtaking Garfagnana valley.
The  'Farmer's House' is the building situated next to the swimming-pool. It has been decorated in a modern style and it is conceived for young guests who want to have fun.
At present, this building is being renovated and it will soon offer 3 big apartments with a view on the breathtaking nature of the Garfagnana valley. However, some comfortable dressing-rooms are already at the guests' disposal.
The 'Pizzeria' is the residence's most rustic building where you can enjoy excellent homemade pizza. There is a wood-burning oven and a large outdoor area in the shade of a beautiful structure with wooden beams and a table seating 15. A master pizza maker can teach you the secrets of learning how to make pizza or simply prepare it for you.
The Villa has a newly built regulation Padel court. The court overlooks the Vallata, located in a green corner not far from the swimming pool. Perfect lighting makes it possible to play also in the evening. An instructor can follow guests with individual lessons or in small groups. For those who want to test themselves, we organise matches with the current Spanish champions.
The swimming-pool, surrounded by marble statues, offers an impressive view on the Garfagnana valley. It has a whirlpool area and and artificial waterfall. Moreover, it is equipped with an artificial wave system and with a little swimming-pool for children.
In the 'Farmer's House', next to the swimming-pool, dressing-rooms and showers are available.
The main peculiarity of Villa Turri is without any doubt its historical park which covers 9 hectares and which is enriched with statues, fountains and very rare monumental trees.
Declared 'Artistic and Natural Heritage of the Garfagnana valley', this park is at the exclusive disposal of Villa Turri's guests. Below are listed the names of the rarest trees which you will find in the park: Criptomeria Japonica, Cedrus atlantica glauca, Taxus baccata, Tilia, Pino marittimo, Quercus roverella, Liquidambar siliquastrum, Fagus silvatica, Chamaecyparis lawsoniana.